Receive every Saturday "The taste of the world"our free and 100% lifestyle newsletter.
Raised to squares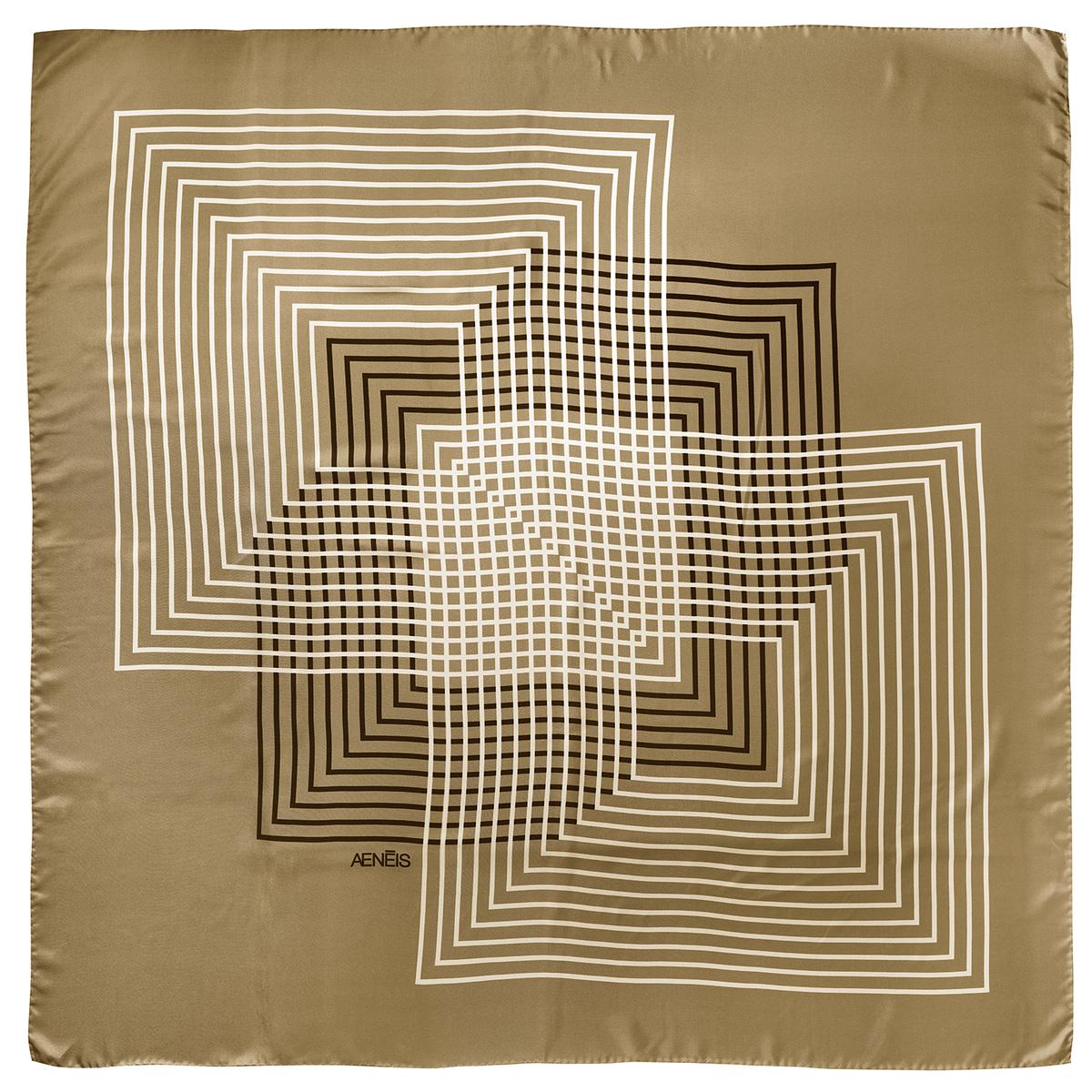 Raised in Ticino, Switzerland, and now living in Paris, Lisa Lubrini regularly travels to Como (Italy). Here, the thirty-year-old has been weaving, printing and sewing squares with graphic patterns in silk twill since 2018, under the Aenéis label. This daughter of an educationalist and a teacher was introduced to handmade weaving as a teenager and studied fashion design in Milan and London. After internships at Alexander McQueen or Liberty of London and experiences at Hugo Boss or Napapijri, she eventually turned her back on these big houses. "I was demotivated and disoriented. They only talked to me about catching up on trends, production scale, costs and margins." she says.
On a more modest scale, which suits him more, Aenéis draws inspiration from frescoes and botanical plates, the work of brutalist or abstract architects, such as Richard Meier, or figures from the Bauhaus, such as the painter Josef Albers. "To be honest, I discovered Albers through his wife Anni Albers, a textile designer. I love his minimalist approach and unique use of basic geometric shapes. Squares, rectangles, you see them every day without paying attention… He knows how to use them in subtle compositions that appeal to the imagination. » The zincography series (lithography on zinc) Graphic tectonic, that Albers undertook in 1941 thus fueled a square game with accuracy and optical illusion.
"I first drew two white squares in pencil and then on a tablet, all in lines. I added a third, black, to highlight them » on a background in so-called color " cookie ", mix of cream, black and beige. "It took many attempts to get the colors to coexist, and then find the right thickness of the lines and edges so that the print was bright and rich to look at. Both when the scarf is unfolded and when it is tied. » V. Pe.
Italy on his plate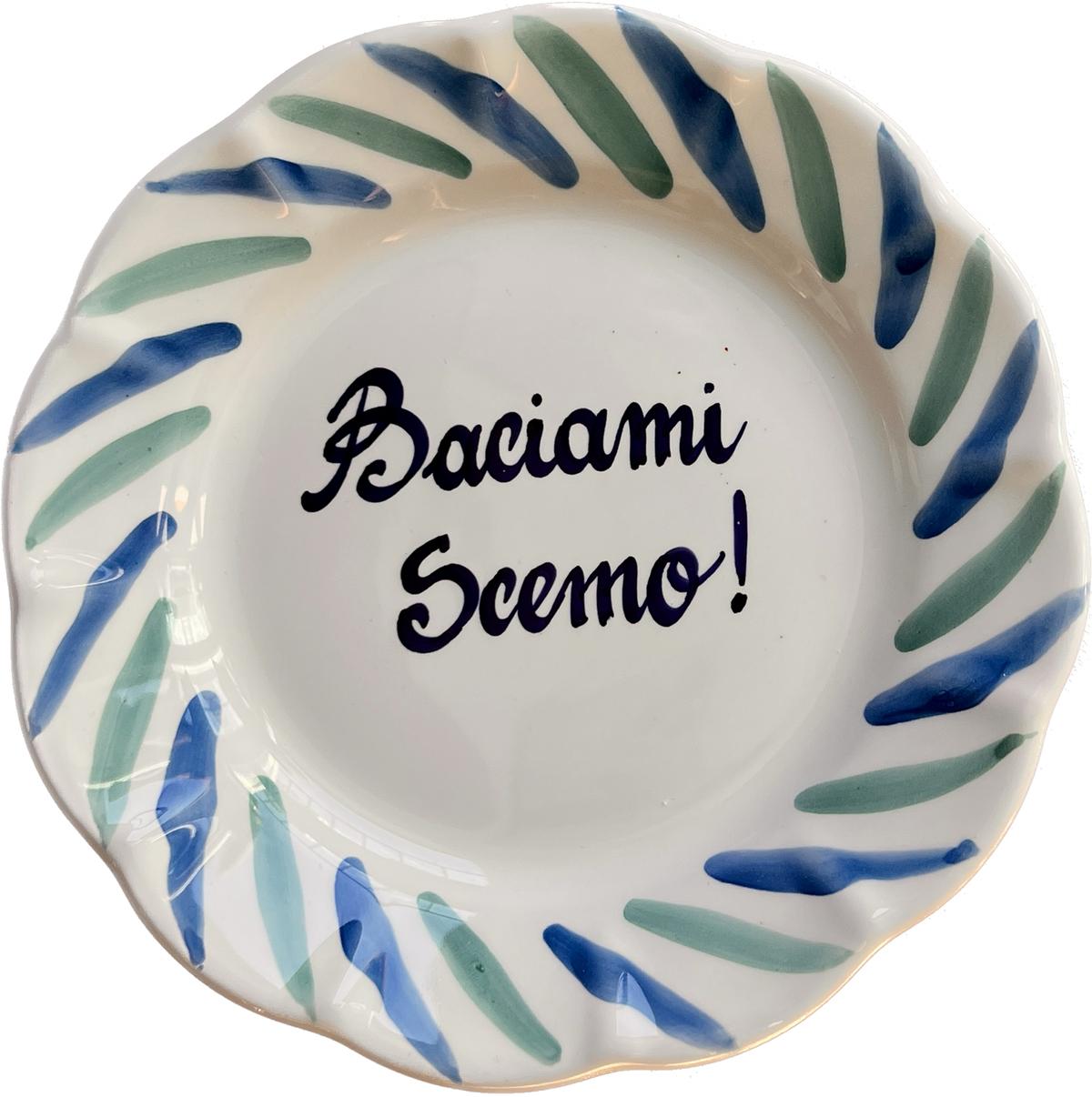 Each major Italian tableware house has its own signature, a know-how, a style or regional roots. Ginori 1735 for example. The Florentine porcelain maker, almost three hundred years old, ennobles the tables of La Botte and elsewhere with his beautiful collections, especially the Oriente Italiano line, which combines oriental garden motifs and pastel shades. We can favor in the same house the more contemporary spirit – even if the inspiration tends towards Greco-Roman art – of Il Viaggio di Nettuno, a selection of pieces conceived by the British designer Luke Edward Lobby.
Change of scenery with the Tuscan brand Popolo that A Tavola! draws, a colorful collaboration of chatty plates, in French or Italian in the text, with the Roman chef Eleonora Galasso. In English, this time naughty messages like ("I saw you crying at the disco", or "It's better to be late than ugly") are hand-painted by the artist Gabriella Ferrazzano (Musæ Studio), on signs which she models , sold on the website of Ta-Daan, a Milanese collective that gives pride of place to revisited craftsmanship.
In a more civil atmosphere, the online store of Cabana, The Italian lifestyle magazine, founded by Martina Mondadori, has created ceramic plates handmade in Umbria and decorated with green, yellow, orange, pink or blue beach chair stripes. In this register of multicolored ceramics, Emporio Sirenuse sells bowls and plates made by Amalfi artisans, while speckled ceramics typical of Puglia are available on the Bottega Egnazia site. But the Transalpines don't have a monopoly on Italian-inspired tableware. Le Grassois Fragonard pays tribute to "A Sicilian Summer", through its collection of fine porcelain plates printed with illustrations reminiscent of Palermo or Catania, at prices as low as a Mediterranean breeze. S. May.
ginori1735.com. fragonard.com. popolo.fr.
Nice dark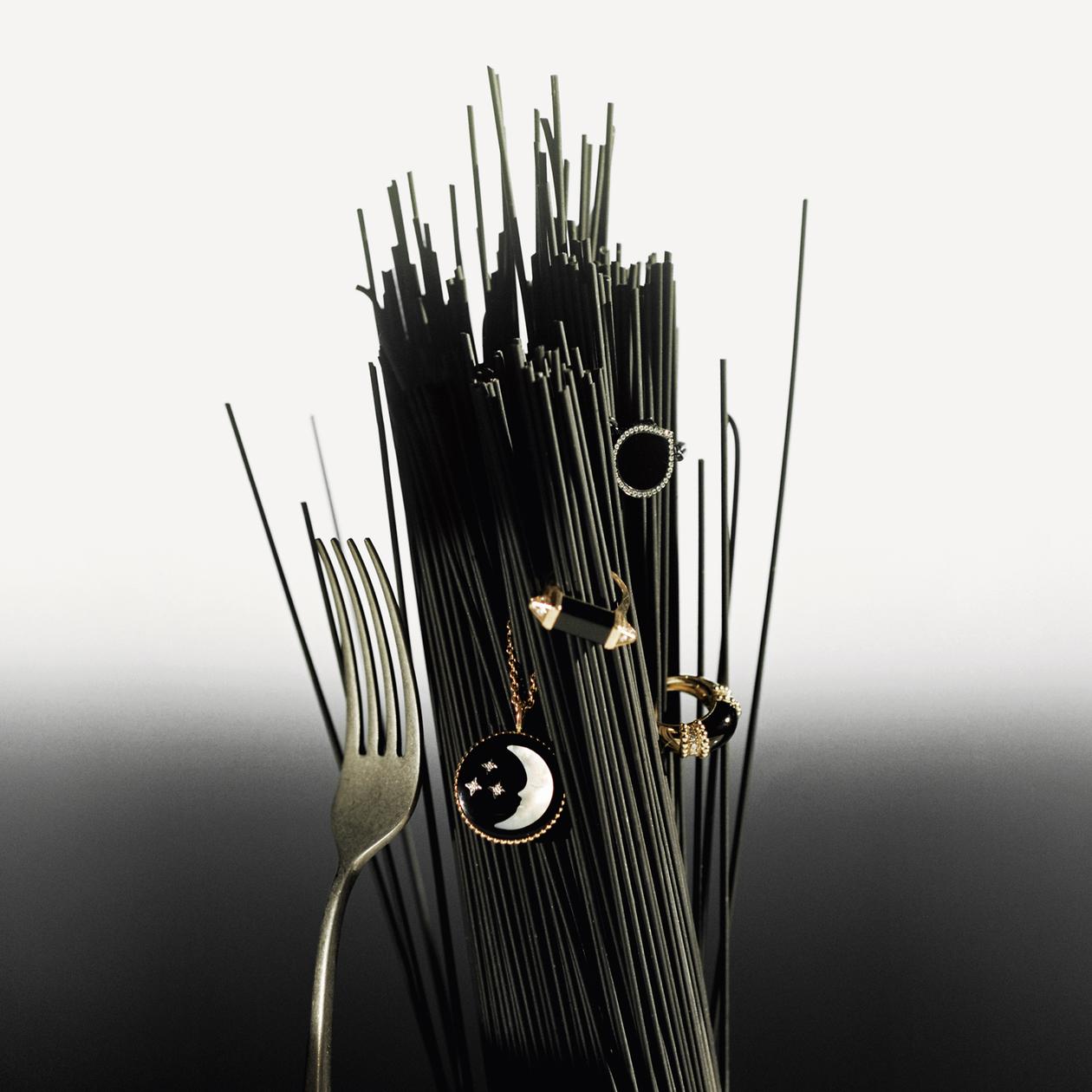 In the world of jewelry, all in 'sparkle', 'transparency' and 'purity', onyx cultivates the difference. Because if there are certain variants – white, gray, green or orange – it is mainly in the deep and opaque black version that the houses of Place Vendôme use this gem from the chalcedony family. Onyx, set on cameos since ancient times, was intended for making mourning jewelry, especially across the Channel, in the Victorian era. In the 1920s and 1930s it moved to the more expensive market. In Paris, Cartier makes it a recurring element in its vocabulary: this stone borders white gold on rigorous clips and brooches, or depicts the spots of a panther. Today, the house on rue de la Paix still combines it with gold and diamonds, a recipe also followed at Van Cleef & Arpels. Dior, in turn, contrasts it with mother of pearl, while Repossi confronts it in a more radical spirit with other equally dark materials, such as blackened gold – by immersing it in a bath of ruthenium – or titanium. V. Pe.
dior.com. cartier.com. repossi.com. vancleefarpels.com
Alcove secrets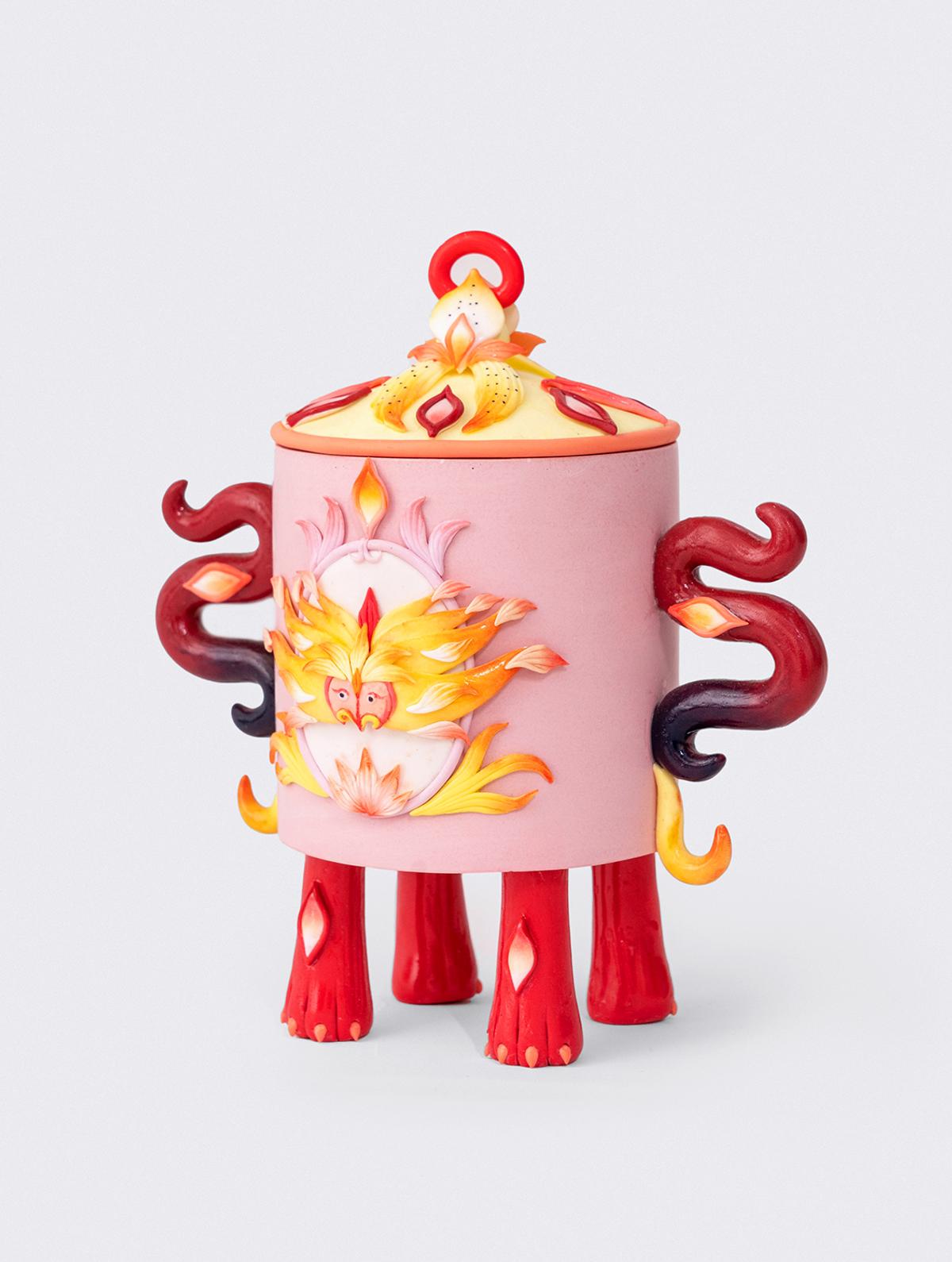 Since 2018, design specialists Valentina Ciuffi and Joseph Grima have shaken up the Milan Furniture Fair by exhibiting, as part of their Alcova fair, several dozen emerging designers, publishers and institutions in unusual locations – a former hospital, a factory. … They are now expanding the event through an online store, where lamps, tables, mirrors, vases… are offered from 70 to 11,000 euros. Collectibles in small series, signed by confidential makers who question the concept of good taste. There we discover astonishing ceramic sculptures by Hannah Lim, Anglo-Chinese inspired boxes with a manga aesthetic, Elements, a lamp by Adrian Cruz in translucent multicolored resin straight from a Florida nightclub, or a Holloway Li armchair in fiberglass and orange fabric with puffy seventies lines. A daring photo of contemporary creation. Mr. God.
A bouquet of shrubs
Provence, spontaneously considered an ocean of rosés, nevertheless hides a production of great red wines (about 10%) that have nothing to envy to the Bordeaux and Burgundy appellations. At Château des Sarrins, in the town of Saint-Antonin-du-Var, the vines flourish on limestone soils in the middle of thickets rich in plant species. When we taste the Rouge Secret 2018 vintage, made from five grape varieties, we find all the scents of the landscape: thyme, savory, rosemary, verbena, lavender, cypress… This Côtes-de-Provence is an invitation to travel through its land. And when Mediterranean red rubs closer to the sea, as in Cassis, it is adorned with irresistible iodized and salty aromas. Sourced from old vines over 60 years old, the vintage Marquis de Fesques, from Domaine du Bagnol, is a dazzling example. LG
Château des Sarrins, Rouge secret, Côtes-de-Provence, organic, 2018, €24. chateaudessarrins.com. Domaine du Bagnol, Marquis de Fesques, blackcurrant, red, organic, 2018, €28. domainedubagnol.fr.
Beating drum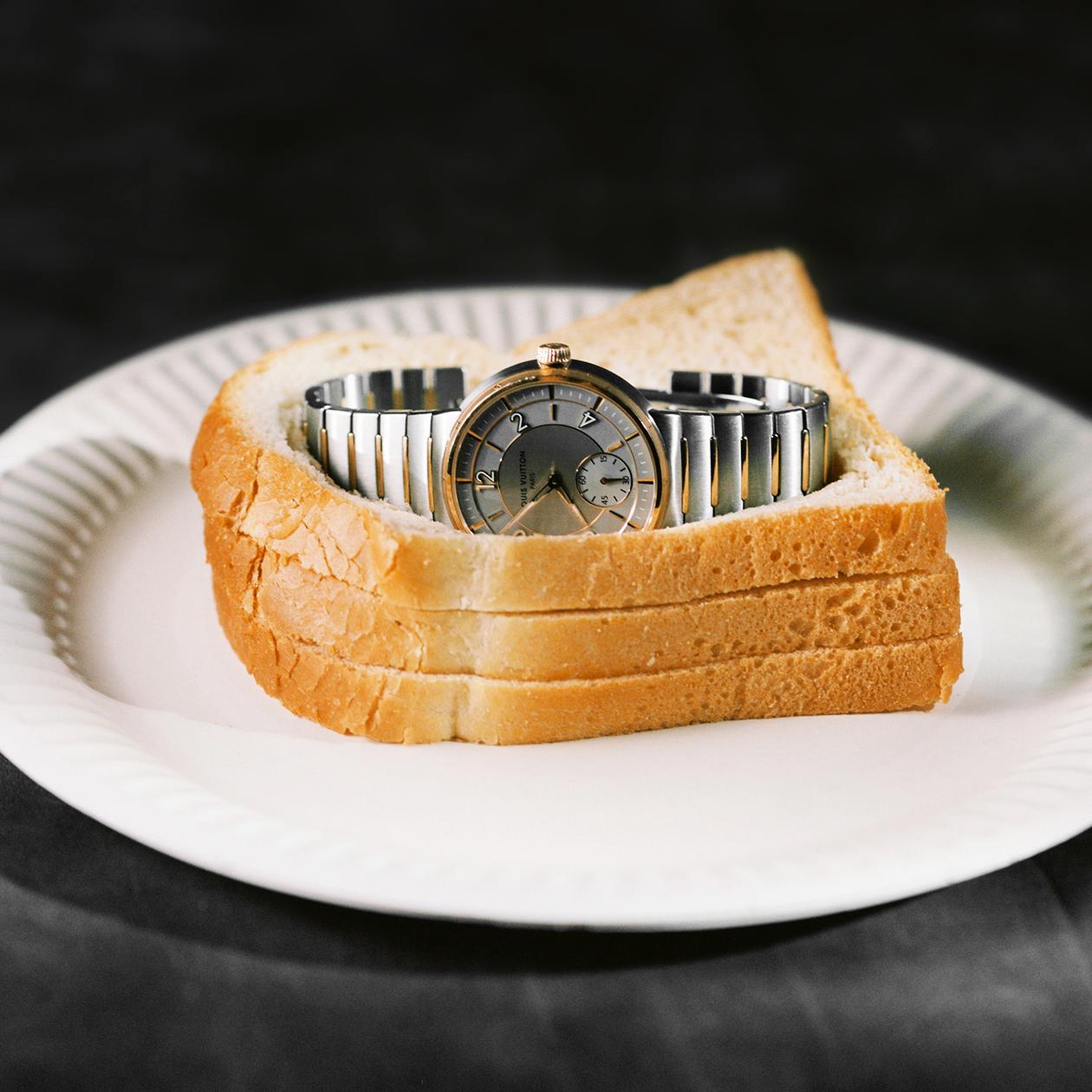 After celebrating its twentieth anniversary in 2022 with a beautiful book published by Thames & Hudson, the Tambour, Louis Vuitton's flagship, is starting its transformation. Little by little, 80% of the existing offering in this range will disappear to attract more erudite collectors. In the new version, the model has a thinner crown (reduced from approximately 13 millimeters to 8.3 millimeters), an integrated metal strap, a new three-hand movement (automatic winding), luminous hands and a text in French with a vintage spirit on the dial: it no longer says "Swiss Made" but "Fab. in Switzerland", as on certain watches from the 1940s to the 1960s. Both a search for refinement and a demonstration of industrial might that goes hand in hand with a price increase. The Tambour, in steel, yellow gold or rose gold, is, as here , also available in a two-tone version. V. Pe.
The Insta moment